... a match is won thanks to talent, whereas the championship is won thanks to intelligence and teamwork ...

Videotec Executive Club (VEC) was created to support our excellent partners, our distributors and integrators who aim for successful growth and leadership.
Videotec considers its partners as part of the "Family" considering that having the same objectives is fundamental for everybody's enhanced welfare and prosperity.
VEC is therefore a loyalty program that aims to enhance long-term and reliable business relationships with its partners.
Joining the Videotec Executive Club means benefiting from a set of events and activities of high added value that support and distinguish Videotec partners in a selective and competitive market.
VEC is designed on 3 classification levels (Premium, Premium Plus and Premium Top) related to certain requirements.
Certain events and activities correspond to each classification level, the highest level being Premium Top.
Postponed annual discounts, project protection discounts, specific assistance on big projects, co-marketing, technical classroom training, advanced replacement system and demo products at special discounts are only some of the benefits offered by this program which supports the activities and work of our partners.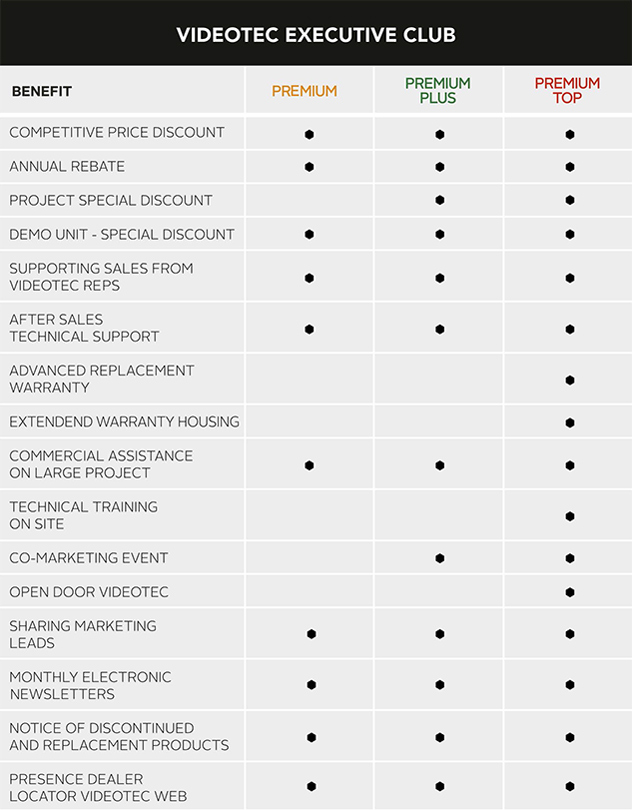 TOP