ULISSE COMPACT HD: Monitoring Taiwan's high speed railway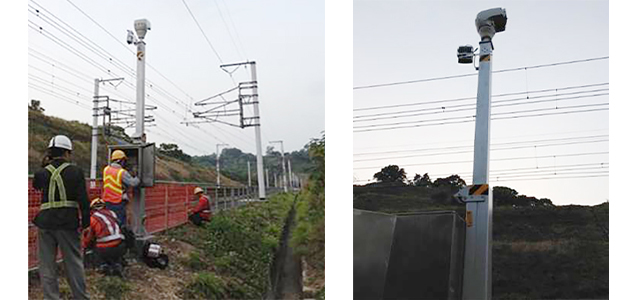 By its very nature, a railway line is a vulnerable infrastructure, subjected to incidents, acts of vandalism and even criminal activity.

As such, it is necessary to fit critical areas with reliable active and passive security systems, similar to those used at airports.

Installing video surveillance is of particular importance when it comes to increasing the level of security for passengers, ensuring that the transport service is punctual and constant, and protecting the infrastructure's assets.


Taiwan's geography – high mountains covering two thirds of the island across its central and eastern zones – has lead to the majority of the country's population and its socioeconomic activity being concentrated in the vast and fertile plains of the western coast.

The high growth rates seen across various industrial sectors over recent decades has brought increased congestion to traffic on the motorways, conventional railways and in the air on this narrow strip of coastal land. This has led to an urgent need to upgrade the infrastructure to facilitate the transport of people and goods along the western corridor.

The big surge in Taiwanese social and economic development coincided with the opening of a high-speed railway line called the THSR (Taiwan High Speed Rail), a strategic connection that allowed people to quickly get from the northern capital city of Taipei to the biggest southern industrial city of Kaohsiung. For 345 km, the THSR winds its way from one end of the country to the other, taking 120,000 passengers a day over a journey of just 90 minutes – much faster than the 4 and a half-hour journey of conventional trains.

Of fundamental importance for this remarkable endeavour was the choice of a video surveillance system which was not only reliable but fully suited to the task of continuously monitoring sensitive areas such as stations, sections of track, tunnels, bridges, etc. and reporting all abnormal and potentially dangerous situations to security officers, in real time, thereby helping to prevent incidents.

It was Videotec's PTZ ULISSE COMPACT HD that was implemented to monitor critical sections of track along the THSR.



The factors that led to the choice of the ULISSE COMPACT HD were the camera's high technical and technological specs. Specifically, it was the excellent, full HD image quality, the ability to control it completely remotely via IP, the very high mechanical resistance to stresses and external influences and the fact that it is virtually no-maintenance.

The full HD, 1080p camera has a 1/2.8°CMOS Exmor™ image sensor with high sensitivity to brightness, a 30x optical zoom and ensures exceptionally high-quality recording, broadcasting 60 images per second. Thanks to these characteristics, it can monitor an object irrespective of speed or distance and obtain crisp, detailed images, even in low-light conditions. With the aid of an integrated infrared light, the camera can work day or night, without interruption.

The ULISSE COMPACT HD camera is designed to withstand difficult external environmental conditions and can adapt to extreme temperatures, ranging from -40°C to +60°C. It offers maximum resistance to adverse weather conditions such as rain, frost, snow or strong wind. If fog or mist becomes an issue, the de-fog function automatically applies the necessary corrections, meaning the area can be seen clearly.

The integrated wiper and optional glass-cleaning liquid tank and pump kit, both operated remotely, guarantee clear vision and dramatically reduce the need for maintenance operations. The ULISSE COMPACT HD is fully managed via IP, both for positioning and configuration and also for firmware updates. This is a real plus point for units placed along sections of the track which are difficult to access.

The camera can be installed on top of a tall mast without the mounting brackets, or other parts, causing a blind spot: perfect for monitoring large railway lines. The ULISSE COMPACT HD transmits images via Ethernet using an H.264/AVC and MJPEG compression.




TOP