ULISSE RADICAL PTZ camera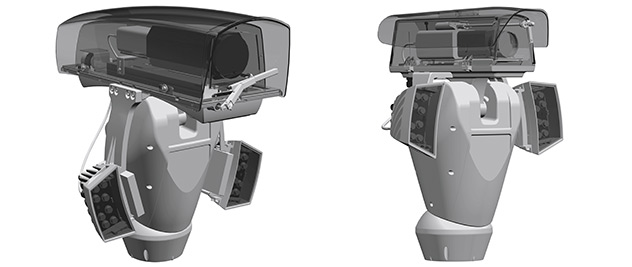 The Pinnacle of PTZ Camera Technology
ULISSE RADICAL is the name of the new range of PTZ cameras, all IP, which can be managed via the ONVIF-S protocol by most VMS on the market.
Thanks to its extensive experience in the field, Videotec now offers an advanced PTZ system, pre-assembled in the factory, with the best motorised network cameras and zoom lenses ensuring a high level of performance.
The camera and lens have been pre-configured during the production stage, and the user only needs to connect up to the power supply and network and carry out the simple final set-up to adapt it to requirements.
ULISSE RADICAL integrates components that accept no compromises: Full HD cameras, 1/2 "CMOS sensor, and 1080p/60fps for daytime and night-time broadcast quality video. To obtain flawless images, even for very long distances, extremely high-performance lenses were selected, 18x or 33x up to 500mm focal length.
ULISSE RADICAL offers amazing performances even in complete darkness thanks to the two powerful illuminators ensuring clear illumination up to a distance of more than 250 metres.
With its sophisticated temperature control system, ULISSE RADICAL is designed for perfect continuous operation even in extreme temperatures, from -40°C to 60°C.
TOP